Bus Tours
All Aboard! CMC aims to make Kershaw County the healthiest in the state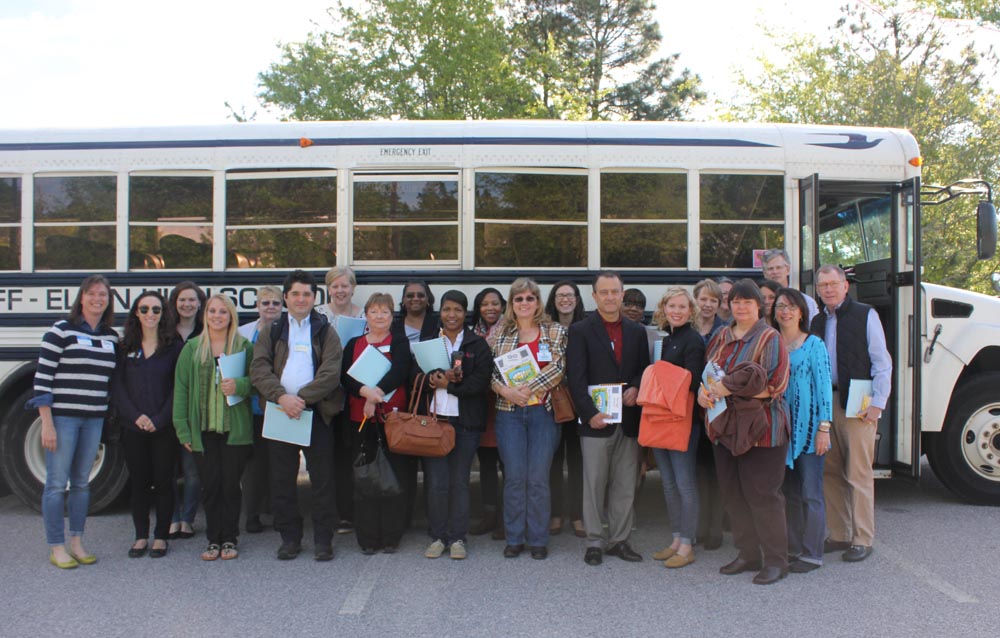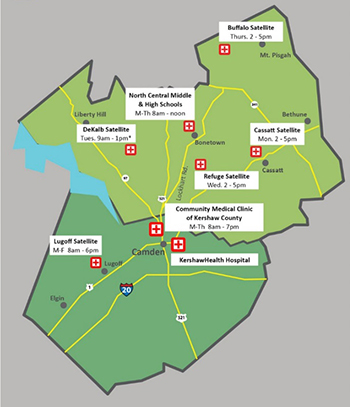 Today, the Community Medical Clinic of Kershaw County (CMC) is more than just a free clinic. It is currently leading the charge in improving population health of the Kershaw County community.

Population Health is an approach to healthcare that aims to improve the health of an entire human population. In CMC's case, that's all of Kershaw County.

So how is CMC doing this? The clinic itself, the hub of the operation, serves as the medical home to 800 county residents, resulting in about 3,600 patient visits annually.

Last year CMC's LiveWell Kershaw program established school-based health clinics at North Central High School and Middle School, making medical care available to 859 students throughout the school year. LiveWell Kershaw also opened community clinics operated in 4 churches throughout the North Central area and providing medical care and access to prescription drugs for those who may not have transportation to the clinic itself.

Since 2010, CMC's AccessKershaw has been helping individuals navigate the maze of healthcare. Community Care Coordinators with AccessKershaw, located in Lugoff, connect people in need of medical, dental, vision and mental healthcare with local providers and resources. More than 7,000 people have received the care they needed thanks to AccessKershaw.

To open up a dialogue with community leaders about the population heath of Kershaw County, Susan Witkowski, the CEO of CMC, organized a bus tour earlier this month. The purpose of the tour was to showcase CMC's efforts as well as to start a conversation about how the community can move forward with innovative solutions to empower residents to live healthier lives.

"Our goal at the Community Medical Clinic is to make Kershaw County the healthiest county in the state. That's no small undertaking. The purpose of our bus tour Friday is start a conversation about the challenges we face in our community and how CMC can lead a collaborative effort with other community leaders in finding solutions," Witkowski said.

Research by the Robert Wood Johnson Foundation shows the following breakdown of what factors determine a person's health:

* Thirty percent of health outcomes are driven by health behaviors (tobacco use, diet and exercise, alcohol use and unsafe sex);

* Twenty percent by clinical care (access to care and quality of care);

* Forty percent social and economic factors (education, employment, income, family and social support and community safety).
* Ten percent physical Environment (air and water quality, housing and transportation)


"We treat the whole person, not just a list of symptoms," Witkowski said. "Our patients come to us with complex medical issues in addition to the need for assistance in many aspects of daily living. Only when these factors are addressed can they pursue the steps toward healthy living."

Witkowski added that the bus tour helped both community members and CMC staff to better understand the critical healthcare needs that Kershaw County faces.

The North Central area of Kershaw County covers 431 square miles; approximately 58% of the county's land area. Since 2014, South Carolina Department of Health and Human Services (DHHS) has funded the Community Medical Clinic through Livewell Kershaw, an initiative specifically aimed at improving population health in the North Central area. The work of Livewell Kershaw has been manifested by Community Health Workers and Nurse Practitioners addressing the needs of the population where they live: through satellite health sites and mobile clinics in community churches and a successful School Based Health Center (SBHC) established at North Central High School.

"Livewell staff have set up the process for administrators and teachers to refer students to the SBHC and it's all gone very well. I'm very pleased –they have an A+ in my book," said David Branham, principal of North Central High School.

"The ride was designed to shift our thinking of how care is provided for community members in more rural areas of our county," said Witkowski. "Hopefully seeing the day-to- day challenges that this community faces will help us to question ourselves about how to design an effective care coordination model for this area."

CMC opened in 1998 as a nonprofit, charitable family practice medical clinic. It was founded on the mission of providing medical care to the uninsured residents of Kershaw County. CMC has grown from seeing several patients a week in one room to having a fully staffed medical facility in Camden as well as mobile clinics in North Central. By spending funds efficiently, CMC is able to operate the clinic on $500,000 annually. That investment results in a value of $5.7 million of medical care for Kershaw County residents. More than 200 active community volunteers contribute 10,000 hours to the clinic each year, allowing CMC to leverage each dollar donated. To learn more visit www.cmcofkc.org.